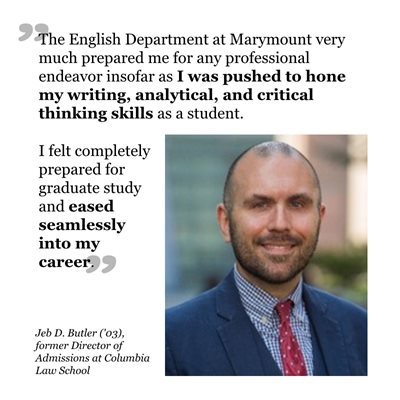 The English major provides students with much more than exposure to good literature. The study of literature deepens your understanding of human experience in all its difference, and our shared humanity across cultures and time periods. You'll extend your range of experience and cultural understanding by examining texts that represent a variety of points of view and historical perspectives.
At the same time, English majors develop a variety of marketable skills with applications in a wide range of fields: skills in close reading, analysis, argument, critical thinking, research, and written and oral communication.
Choose from one of four options within the major – literature, writing, media and performance studies, or secondary education – depending on your career goals. Marymount's Washington-area location provides students with access to rich cultural and research institutions that reinforce and broaden the classroom experience.
What can you do with a degree in English?
An English major provides students with a versatile preparation for the workplace and advanced study. Widely applicable skills enable English majors to pursue careers and graduate work in a variety of fields including law, business, education, advertising, publishing, research, public relations, writing, web editing, and marketing. An English major can easily be combined with a minor in another professional discipline such as business, psychology, information technology, communication, or history. Learn more about Jobs & Internships here.
What could be better? For four years you do lots of writing and reading, you talk about writing and reading, then follow up with more writing and reading. Then, the sky's the limit. Common jobs held by English majors include:

SPEECH WRITER
Median Salary: $78,011
30-Year Earnings: $4,601,086

COMMUNICATIONS MANAGER
Median Salary: $88,498
30-Year Earnings: $5,219,609

CONTENT MANAGER — WEB
Median Salary: $79,674
30-Year Earnings: $4,699,170

Make Your Money Count, But Do What You Love

When all is said and done, the best way to get the biggest bang for your education buck is to truly love what you do. But while few things contribute to your ultimate earning power like passion and excelling at what you do, it doesn't hurt to know you'll be able to pay off those college loans a little sooner!
Transferable Skills Acquired in the English Degree
By the end of the senior year, English majors develop the skills to:
Produce coherent, clear, and well-organized writing in a variety of genres for a variety of audiences and purposes
Think flexibly and critically about issues and solve problems creatively, both individually and in collaboration with others
Manage their time effectively and work independently to complete complex projects
Express ethical values, examine issues from multiple perspectives, and respond with empathy to the range of human experience, both in writing and in personal interactions
Present material effectively in an oral format