Border (Untitled)
Curated by: Joe Hicks, Sarah Hardesty, and Meaghan Kent
Work at Cody Gallery by: Sobia Ahmad, Nathalie Alfonso, Adrián S. Bará, Mojdeh Rezoeipour, Paul Shortt, and Agustina Woodgate
Work at Barry Gallery by: Marymount University students with Professor Barry Erdeljon, Josh Mojica, Karam Foundation curated by Shamila Chaudhary, and Love Without Borders.
Exhibition: May 18 – August 29, 2018
Opening Reception and Talk at Cody Gallery: May 18, 6-8pm
Reception at Barry Gallery: May 30, 6-8pm
Marymount University is pleased to present Border (Untitled), an exhibition regarding the current state of culture, art, and politics surrounding immigration and refugees. Border (Untitled) suggests an ambiguous designated space that conveys different cultural experiences to further an understanding of how these lines and borders affect us personally and socially. The project is in conjunction with the One Journey Festival on June 2nd, 2018 at the Washington National Cathedral. The all day festival aims to connect people through the shared language of human creativity. With this in mind, Border (Untitled) extends the discourse to crossover into the two galleries of Marymount University: Cody Gallery at Ballston Center and Barry Gallery at Reinsch Library.
At Cody Gallery, work by Sobia Ahmad, Nathalie Alfonso, Adrián S. Bará, Mojdeh Rezoeipour, Paul Shortt, and Agustina Woodgate investigates boundaries, labor, and identity. In many cases these works involve an abstraction of images signifying voices that are often marginalized, overlooked, and forgotten. For example, Alfonso's site-specific "Cleaning the Line" investigates manual labor through an integration of mark making and cleaning while Sobia Ahmad's "Small Identities" are a series of tiles with photo id's of family and friends that are Muslim immigrants. Several are left blank, revealing their decision to not submit their image out of fear of discrimination.
At Barry Gallery there will be a narrative of experiences presented from organizations aiding Syrian refugees and the refugees themselves compiled by Associate Professor Barry Erdeljon and his students of Marymount University. The Barry Gallery will also show portraits of Syrian refugees from the "Inside Out" project by photographer Josh Mojica, as well as portraits of Syrian refugee students associated with the Karam Foundation. The Karam Foundation profiles were curated and organized by Shamila N. Chaudhary of the School of Advanced International Studies at Johns Hopkins University where she directs "The Big Picture," a forum exploring international affairs through arts and culture.
In conjunction with the exhibition and the One Journey organization, a fundraiser for Love Without Borders will be presented at both spaces. Love Without Borders is a New Jersey based organization that serves women and children. Works made by refugees from various locations around the globe are available for sale. All proceeds will be donated to support Love Without Borders and their work for refugee aid.
The exhibition is organized by Joe Hicks (Assistant Professor, Marymount University), Sarah Hardesty (Assistant Professor and Director of Barry Gallery, Marymount University), and Meaghan Kent (Director of Cody Gallery, Marymount University). Our great thanks to the artists, One Journey, Love Without Borders, Johns Hopkins University, Karam Foundation, and Spinello Projects.
Cody Gallery of Marymount University is located at 1000 North Glebe Road, 2nd Floor. The gallery hours are Thursday-Saturday, 1-6pm and by appointment. Street parking and Capital Bikeshare are available. The gallery is located near the Metroline Orange: Ballston-MU. Email mkent@marymount.edu or phone (703) 908-7782 for further information.
The Barry Gallery, located in the Reinsch Library at Marymount, 2807 North Glebe Road, is open from 10 a.m. to 8 p.m. Monday through Thursday and 10 a.m. to 6 p.m. Friday and Saturday. Admission is free. Email shardest@marymount.edu for more information.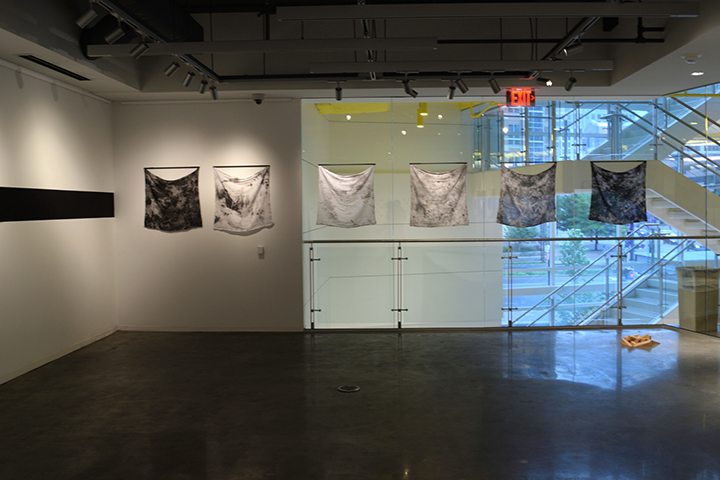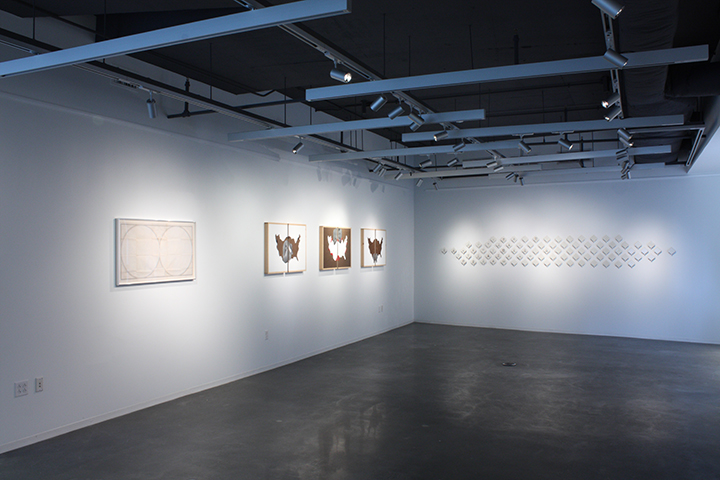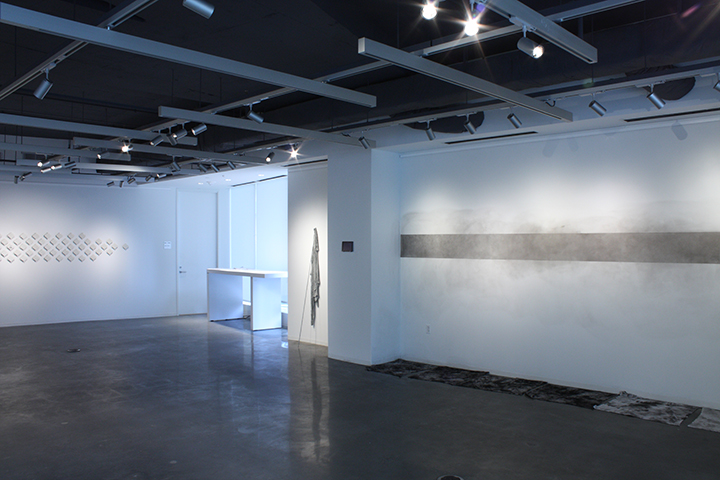 Photo (top): Agustina Woodgate, Northern and Southern Hemisphere, 2014, Sanded outdated world map, 22 x 41 inches, Courtesy of the artist and Spinello Projects.
Exhibition views, Photo credit: Jospeh Hicks