Metaphrase: Jon Malis and Jeremy Flick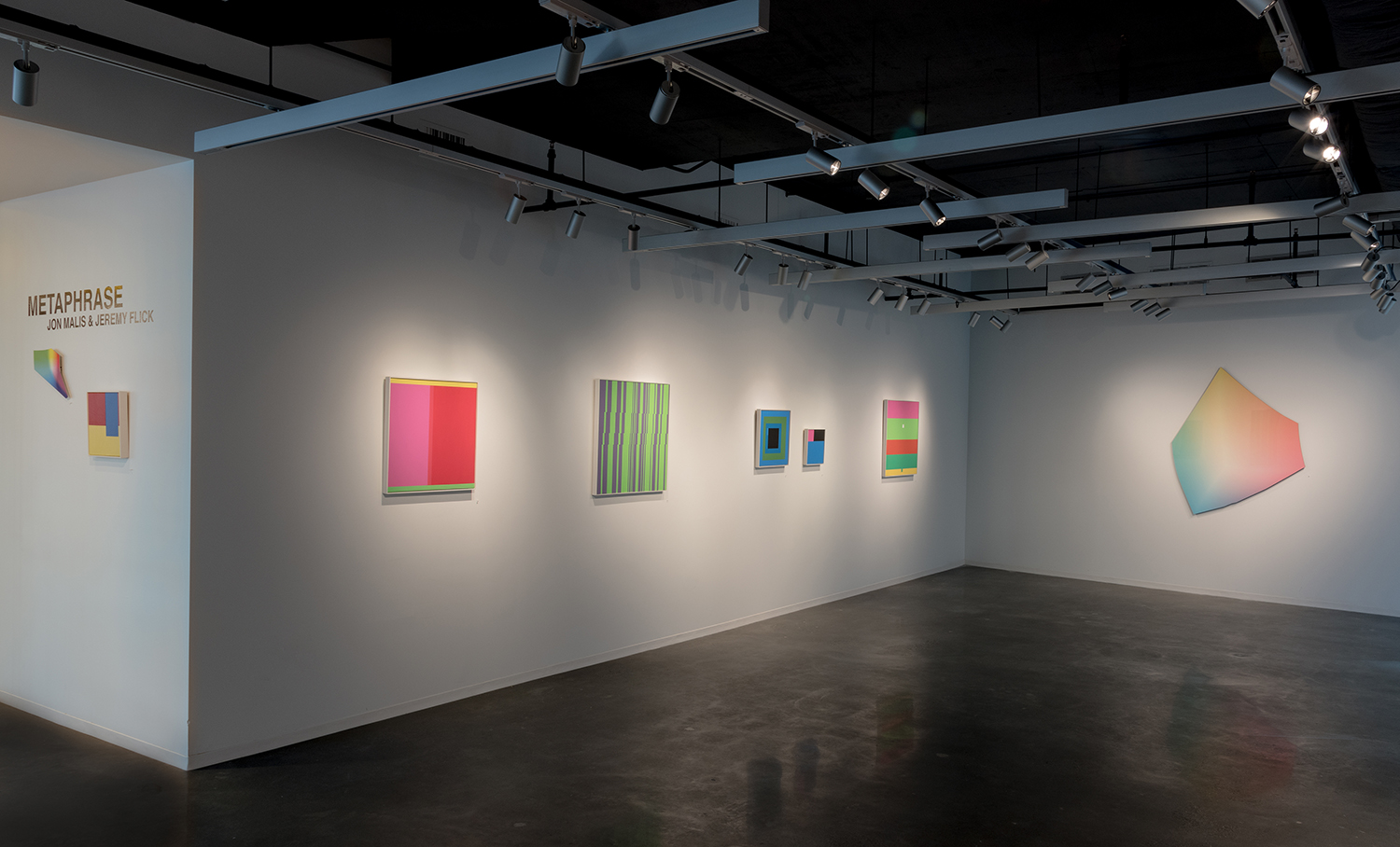 Metaphrase: Jeremy Flick and Jon Malis
Curated by: Paul Shortt
Exhibition: October 27, 2017-December 2, 2017
Opening: Friday, November 3, 2017, 6-8 PM
Gallery Talk: Friday November 3, 2017 at 7 PM
Press: Jenkins, Mark, "Metaphrase and Ulterior Perspective," The Washington Post, November 22, 2017
In Metaphrase artists Jeremy Flick and Jon Malis explore the transliteration of color through painting, photography and sculpture. Over the last few years painter Jeremy Flick has been investigating "color science" derived from the imitation and representation of blown up pixels of digital images. While Jon Malis has been using modeling software to explore the representation of color spectrums (CMYK, RGB etc..) into 2D and 3D forms, turning the digital into the physical. Both artist are representing color in a way that retains the original meaning while also creating a whole other meaning.
This will be the second exhibition in the new MU Ballston Center Gallery, located on the second floor of the recently completed Ballston Center, 1000 North Glebe Road. The exhibit runs October 27-December 2, 2017. The galleries regular hours are Thursday-Saturday 1-6 PM.
Marymount University is an independent, coeducational Catholic university offering bachelor's, master's, and doctoral degrees in a wide range of disciplines.
JEREMY FLICK is a Washington, DC, based arts administrator, artist, and educator. He received his BFA from the University of Cincinnati and his MFA from the University of Maryland. He is currently the Executive Director at CREATE Arts Center (Silver Spring, MD) and serves as Adjunct Professor in the Visual Arts Department at Montgomery College (Takoma Park, MD).
Flick is a resident artist at Red Dirt Studios (Mt. Ranier, MD). As a practicing artist, his works are included in numerous private and academic collections, including The Hotel at the University of Maryland (College Park, MD), Capital One Bank (McLean, VA), and Hilton Worldwide (McLean, VA).
His work has been exhibited extensively with recent exhibitions including: Northern Virginia Community College (Annandale, VA), Shinola (Washington), Gallery nine5 (New York), McLean Project for the Arts (McLean, VA), Heiner Contemporary Art (Washington), Arlington Arts Center (Arlington), Aqua Art Miami (Miami), Conner Contemporary Art (Washington), and the Runnels Art Gallery (Portales, NM) among others.
JON MALIS (b. 1984: Boston, MA; working in Washington DC & Baltimore, MD)
Working as an artist, Jon Malis is primarily concerned with notions of representation and display of visual content, focusing on how various methods of presentation can alter the viewer's perception and interpretation of imagery. Most recently, he has sought to provide a physical definition of digital photography, creating sculptural forms based upon how color is represented in digital imagery.
Malis has received numerous awards and recognitions such as the 2012 National Photography Award from the von Lebig Art Center (Naples, FL), semi-final animations for both the Janet & Walter Sondheim prize (2014), and the Trawick Prize (2015) and received a Panavision New Filmmaker's Grant in 2010. He has exhibited and presented his work internationally, from the Washington DC region (CONNERSMITH, Hamiltonian, Honfleur, Long View Gallery, Maryland Art Place, Montgomery College) to Vox Populi in Philadelphia, PULSE Miami art fair, the Midwest Center for Photography (KS) and Orange Coast College (CA), to the Camden Arts Centre (London), Helsinki Photomedia Conference (Finland), and the PFF Film Festival in Berlin.
Currently, Malis holds an appointment as a tenure-track Assistant Professor of Photography at Loyola University (Baltimore, MD), and currently serves on the board of the International Digital Media and Arts Association. Formerly, he has worked as a freelance cinematographer and producer for narrative and documentary film/TV productions, and was a staff photojournalist for ThisWeek News/Columbus Dispatch, and the Piqua Daily Call newspaper. He received a Master of Fine Arts in Film & Electronic Media from American University in 2011, and a Bachelor of Arts degree in Studio Art from The George Washington University in 2007.
Photo credit: Jon Malis