Administration & Supervision (M.Ed.)



Marymount University's Master of Education in Administration and Supervision is an online program designed to prepare students worldwide for school administration in Catholic schools, as well as public or private schools. Participants complete the course of study in a cohort, supporting each other and sharing experiences and insights. Courses are designed and sequenced to help participants grow in their spirituality and leadership abilities.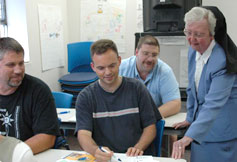 The program begins with an intensive two-week, six-credit, summer residency at Marymount University allowing the participants also to take advantage of the history and culture of the Washington, DC, area. During the school year, participants complete additional credits through online coursework, connecting with their colleagues through online chats and collaborating on projects. The online, cohort format is especially beneficial to teachers whose schedules can make attending on-campus courses difficult.
During the second summer, participants return to campus for another two-week session and six credits of coursework. Then, during the following school year, they complete online coursework and prepare to engage in the culminating experience, a six-credit comprehensive project, internship, or thesis.
The program also is grounded in and provides for the development of the Catholic values and perspectives essential to fostering Catholic unity and identity within a school community. In addition to developing competencies in educational leadership, the program structure focuses on the Church's history, teaching, and moral perspectives while encouraging participants' own faith and spiritual growth.
The M.Ed. in Administration and Supervision is approved by the Virginia Department of Education for licensure with an endorsement in Administration and Supervision PK-12.