2015 Designer of the Year
Sue Wong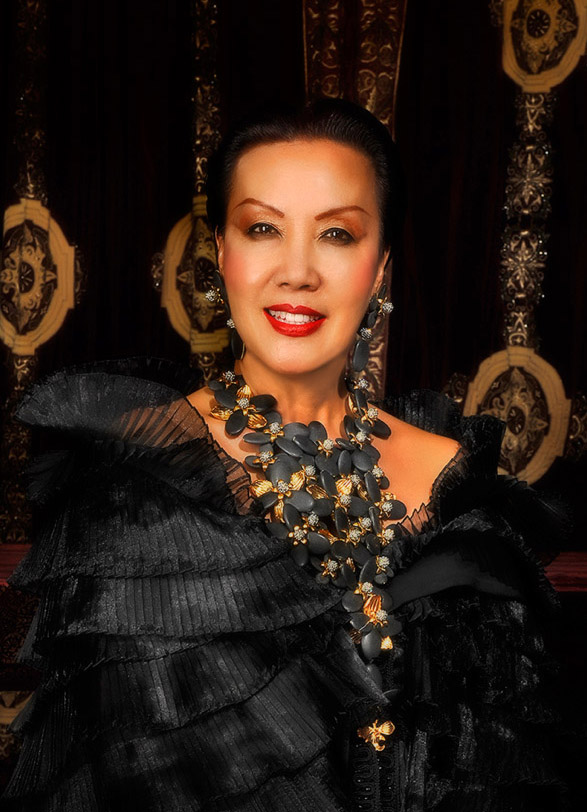 Sue Wong's signature style evokes the allure and glamour of various eras such as Old Hollywood, Weimar Berlin, 1930s Shanghai and Manhattan's gilded Jazz Age. While often adopting vintage style, every design is decidedly very Sue Wong: exquisite fabrics shimmering with incandescent beads, unique embroideries and layered, embellished textures. She personally creates more than 1,500 designs a year that are worn by women of all shapes, sizes and ethnicities. The many celebrities who have worn her clothing include Taylor Swift, Kim Kardashian, Tyra Banks and Anne Hathaway.
Wong's life is a story of determination and hard work. She was born in the remote countryside of southern China and lived there until age 6, when her mother bribed a border guard with her wedding jewels in exchange for freedom into Hong Kong. A year later they journeyed to the United States to reunite with Wong's father in Los Angeles.
As a child of struggling immigrants, she made her own toys: paper dolls with lavish wardrobes. By age 9 she was making her own clothes. In high school, she was chosen from more than 300 female classmates to be a member of the May Company Teen Board and landed the opportunity to work in various capacities, including modeling, assisting with window displays and merchandising.
While working to earn a fashion degree, she interned under the head designer with the resource brand Arpeja after winning first place in a scholarship sponsored by the company. Wong left Arpeja to open a one-of-a-kind boutique in Venice, Calif., and later, an upscale boutique in West Hollywood. Her signature vintage style was born and solidified during this period.
Wong took details from garments from the '20s, '30s, and '40s, extracted the handmade detailing such as beadwork and embroidery, and redesigned entirely new garments. Her elaborate creations were displayed and hung from wires suspended from the ceiling to create a gallery effect in her boutiques. She attracted a following that included Bianca Jagger and Goldie Hawn.
After two design stints with smaller companies, Wong returned to Arpeja as chief designer for the label's Young Edwardian, where she increased the company's sales from $2 million annually to $52 million within three years.
Her initial attempt to launch her own line at age 30 was unsuccessful. Five years later, in 1985, she relaunched her brand with an initial collection of Sue Wong day dresses to critical acclaim. She introduced more elaborate evening pieces in 1999, a move that firmly established her signature style.
Sue Wong honors the goddess force through her designs–the universal feminine energy that allows women to transcend their time and place. When a woman wears a SUE WONG gown, she is awakened and transformed into a goddess. Wong's designs celebrate and stir up genuine emotion. Her mantra: BEAUTY ~ MAGIC ~ TRANSFORMATION is built upon awakening and embracing one's true essence (whatever that might be) and transforming into something higher than before. Wong has created a unique, one of a kind SUE WONG look, inspired by the old Hollywood Golden era. Her designs are transformative gowns of empowerment that allow women to get in touch with their feminine Divine/inner Goddess. Wong creates couture gowns with impeccable workmanship available at everyday prices and is a couturier to every woman. For more information or to learn more about Sue Wong, visit:
Website: www.suewong.com
Facebook: www.facebook.com/suewongfashionpage
Instagram: www.instagram.com/suewongfashion/
Twitter: www.twitter.com/SueWongFashion
Pinterest: www.pinterest.com/suewongfashion/
Tumblr: www.tumblr.com/blog/suewongfashion
Vimeo: www.vimeo.com/user26321517