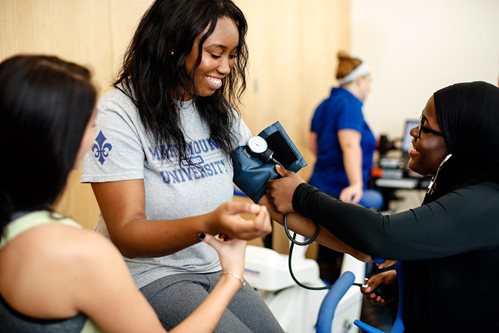 B.S. in Health Sciences
Take the next steps toward your educational and career goals! Housed in the School of Health Sciences, Marymount University's Bachelor of Science in Health Sciences program is a dynamic major that is interdisciplinary in nature and provides flexible options that allows students to prepare for many kinds of positions in the health and wellness fields.
Promoting Health and Wellness
If you're interested in working in a health-related profession or continuing on to graduate school to obtain an advanced degree in exercise science, medicine, physical therapy, occupational therapy, athletic training, or public health, then you should consider a bachelor's degree in health science—a solid foundational degree for a broad base of careers.
An academically rigorous degree program, the Bachelor of Science in Health Sciences includes courses in biology, human anatomy and physiology, and exercise physiology. Other coursework includes health psychology, stress management, and nutrition.
Why to choose a degree in Health Sciences
The four areas of Emphasis (Tracks) in the Health Science (B.S.) degree
Certification Preparation
Career Outlook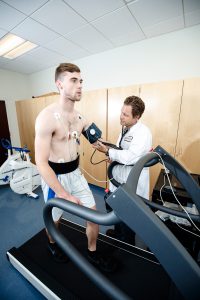 The U.S. Bureau of Labor Statistics has indicated that employment of healthcare occupations is expected to rise significantly in the next several years adding as many as 2.4 million jobs to the workforce. "Healthcare occupations are projected to add more jobs than any of the other occupational groups. This projected growth is mainly due to an aging population, leading to greater demand for healthcare services."
Graduates from the B.S. Health Sciences program are well equipped to pursue clinical and non-clinical opportunities in hospitals, clinics, government agencies, sports facilities, health and wellness organizations, and community based and non-profit agencies. Because of the many specialties available, your career path will be largely determined by the health sciences track you select to complete your degree.
Please click here to Apply Now to begin your journey to achieving your goals.
Questions? Please contact the School Director, Dr. Skye Donovan, at hhp@marymount.edu