Health Sciences Bachelor of Science Overview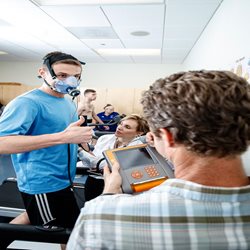 The Bachelor of Science in Health Sciences, which is housed in the Health and Human Performance Program and grounded in the Liberal Arts Core of the university, provides students resources for developing professional skills in:
exercise testing
physical activity leadership
health and fitness assessment
exercise programming
wellness coaching
public health
health promotion
Graduates are prepared for beginning administrative, supervisory, and leadership positions in commercial and community health and athletic clubs, in corporate fitness and wellness centers/programs, and for graduate study in health education, exercise science, occupational therapy, athletic training, chiropractic medicine, physical therapy and public health. In addition, qualified students may apply for an accelerated B.S. to M.S. program in Public Health Education and Promotion.
Students choose from four areas of emphasis:
CERTIFICATION PREPARATION
Students completing the baccalaureate degree (B.S.) in Marymount's health sciences programs are prepared to apply for:
Upon successful completion of the Health Sciences program, students will be able to:
demonstrate the knowledge required to function as competent entry-level professionals in the health/fitness industry;
demonstrate competence in using equipment, industry tools/inventories, and/or other practical "hands-on" applications typically used in health and wellness settings and/or clinical settings;
demonstrate the ability to effectively educate and/or counsel individuals regarding behavior modification for the promotion of health and wellness;
apply ethical standards to the conduct of health and wellness programs; and
evaluate information to address the health needs/concerns of individuals or groups.