The CyberLab at Marymount University
Location: Ballston, Room 4058
1000 N. Glebe Rd, Arlington 22203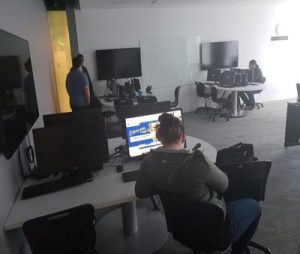 The CyberLab is designed as an environment for a variety of cybersecurity and computer forensics activities, and is separated from the university's main networks.
It is a closed lab with limited key access for faculty and selected students. Selected classes are held in the class but at other times students may use the facilities for assignments, research and for club activities
such as the MU Script Kiddies Club, a group of freshman students who practice and learn from each other to prepare for cybersecurity competitions.
There are 6 "pods" in the room, each with four workstations and room for an extra laptop. Each pod has its own large screen TV which can be used to project from the computers in the pod using the ClickShare feature.
The workstations are advanced Dell multi-core configurations with ample processing power and memory. VMware is used for virtualization and use of the Linux Tools. Kali Linux is available from USB drives.
Each pod also has access to a private cloud, also hosted in the lab.
A private cloud including three Dell servers, acts as a central environment, including various VMs containing a variety of attack targets, which may be found in the corporate and government environments.
The private cloud acts as a repository for lab exercises and for attack targets in the attack and defend scenarios.
It has a single Internet connection that can be disabled by the instructor when Internet access is not desirable (e.g. when working with malware).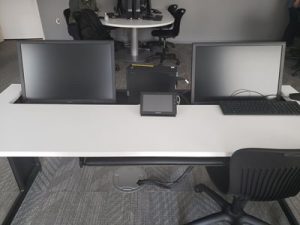 The instructor teaches from the center of the room and can project content to all the TVs, or to individual TV. Glass boards around the room can also be used for adhoc information sharing.
The room has floor to ceiling windows which add to the ambience.
Events can be scheduled in the room (e.g., summer cybersecurity camps). Faculty offices are close to the lab offering assistance and control when necessary.
Questions? Contact Dr. Diane Murphy at dmurphy@marymount.edu.