The Marymount ID Card is your multi-function identification card.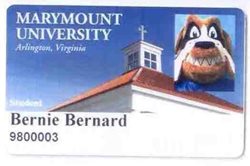 Office Hours
Monday -Friday: 9AM – 5PM
*Closed for University Holidays.*
Use your Marymount ID Card as your:
Marymount ID
Building access card
Garage access (with a valid parking pass)
Meal card
Library card
Computer Lab Access
PNC Bank Card (optional with a PNC account)
Card not working? Please stop by our window (Gerard 1028A) or email idaccess@marymount.edu with your student ID number and a picture of the front & back of your ID card.
Need to request your MU ID?
Stop by our office in Gerard 1028A
OR
Submit a request online.
Students: Please submit this FORM to submit a photo for a first time ID or to request a replacmeent ID.
Employees: Please submit this FORM to submit your photo for a first time ID or to request a replacement ID.
NOTE: you will need to be signed into your MU account to access these forms
How It Works
Access Card
You will use the MU ID Card to access those secured areas of campus that you are authorized to access. All you need to do is hold your card up to the reader on the door or elevator and your access level will be verified.
Meal Card
The magnetic stripe on the back of the MU ID Card is your meal card. If you are a resident student, the meal plan you selected will automatically be included on your MU ID Card. If you are a commuter student, you are eligible to purchase a Commuter Meal Plan. If you are an employee, you may purchase dining dollars to use in any campus dining facility. For more information about what meal plans are offered and how to purchase one please visit the dining services website.
Library
Your library barcode number is preprinted on the back of your MU ID Card. You will be required to show your MU ID Card in order to borrow library materials at Marymount and throughout the WRLC Consortium. The library barcode will be active within 24 hours after the card is issued. If you have any questions please come to the Circulation Desk in the Library or library extensions or visit the Library and Learning Services website.
Duration
The photo ID card is issued at the time a student first registers for classes or, in the case of employees, at the initial hiring. The ID card should be carried at all times and is intended to serve an individual throughout their affiliation with the University.
Replacement
There is a $45 charge for a replacement ID card in cases where the card is lost, stolen, has intentional damage (e.g. holes punched in the card, snapped in two, etc.), or the cardholder wishes to retake their photo. The replacement fee is waived in cases where the replacement is due to normal wear and tear (i.e. the bar code is no longer visible or the magnetic strip is non-functioning). A replacement ID card can be obtained from the Office of Parking and ID, located on the first floor of Berg Hall 1001, Monday – Friday: 9am – 5pm
PNC Bank
Link your MU ID Card to your PNC Bank account(s) and it becomes your ATM card too. To link your MU ID Card, visit the PNC website to print a Card Linking authorization form. You can also stop by the ID & Parking Office in Ireton Hall or the PNC Ballston Branch to pick up and submit a Card Linking authorization form (allow 3 days for processing). Then log in to your PNC Online Banking account and select the Customer Service Tab. Go to the Account Services section and click on "Link Campus ID card" and select Marymount University.
Deactivating a Lost or Stolen ID Card
It is the responsibility of the cardholder to keep their ID card safe and secure and to deactivate a lost or stolen ID card. You should immediately deactivate your ID card to prevent use by unauthorized individuals. The University assumes no responsibility for misuse of your card, or for charges to your accounts due to your ID card being lost or stolen.
Once deactivated, you must obtain a new ID card at the Office of Parking and ID, located on the first floor of Berg Hall 1001, Monday – Friday: 9am – 5pm. The charge for a new ID card is $45. A deactivated ID card cannot be reactivated.