As more than 50% of Marymount University's student population commute to campus, our commuter students are a priority. The Office of Commuter and Graduate Student Services strives to build community among commuter students by engaging them in campus life. OCGSS will connect students with appropriate campus and community resources to help them best manage transportation, parking, dining, leadership, and all aspects of being a MU student.
Need a place to store your belongings?
The Lee Center's Commuter Student Lockers are available to all commuter students free of charge. Choose from any of 90 lockers, conveniently located on the lower level of the Lee Center. Secure a locker by visiting the Lee Center Manager's Office, across from the main level Information Desk. Lockers are rented on a first-come, first-serve basis. Students are required to supply their own locks–all you need is a valid Marymount ID.
Need a place to stay? Request a short-term stay.
Commuter students have the opportunity to register for a room in advance to their desired date of stay. After you have submitted a registration request, it will be processed and you will receive a confirmation of registration email. Be sure to read more about the policies and procedures here.
On campus often and don't want to pack a lunch? Purchase a Commuter Meal Plan.
Commuter students that are on campus often and don't want the hassle of packing lunch and bringing it to campus can purchase a Commuter Meal Plan. A Commuter Meal Plan allows students to can lunch in the Gerard Dining Hall or purchase a salad or sandwich from Lola's Cafe. For students with classes in Ballston, Commuter Meal Plans also work in Eat located in the Ballston classroom building. Look at our Commuter Meal Plans below and submit a Commuter Meal Plan Request form HERE to have one added to your Student ID and student bill.
2021-2022 Commuter Student Meal Plans
Commuter Meal Plan Type
Cost Per Semester
Cost Per Academic Year
9 meals per week + $500 Flex Dollars
$2,100
$4,200
30 meals per semester + $400 Flex Dollars
$800
$1,600
$300 Flex Dollars per semester
$300
$600
Commuting to the new Ballston academic building?
Learn more about parking and available resources here.
Looking to get involved as a commuter?
Join the student organization, Commuter Activities Board (CAB) or attend their events! Stay up to date on commuter activities on Facebook, Instagram, and Twitter.
Looking for a place to relax, heat your lunch, or study for class?
Lodge Commuter Lounge:
Located on the first floor of the Lodge, in between the Gerard Lobby and Campus Ministry. This space offers a large fridge, a sink, a microwave, and a Keurig, as well as table and lounge seating.
Berg Student Lounge:
Located on the lower level of Berg Hall across from the mail room. This space offers a large amount of lounge furniture and table seating in addition to a fridge, a microwave, a Keurig, and a pool table. If you would like to reserve this space for events, please contact the Coordinator of Commuter and Graduate Student Services.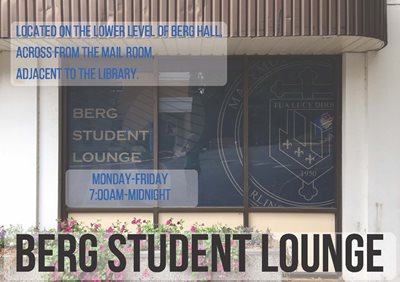 New Ballston Center Lounge Areas
The student lounge is located on the 4th floor. Coming off of the stairs, take the hallway to your left, at the end of the hall the lounge is on your right. The space includes a eating area with booth and counter seating, refrigerator, sink, and microwave.