Interior Design Faculty Show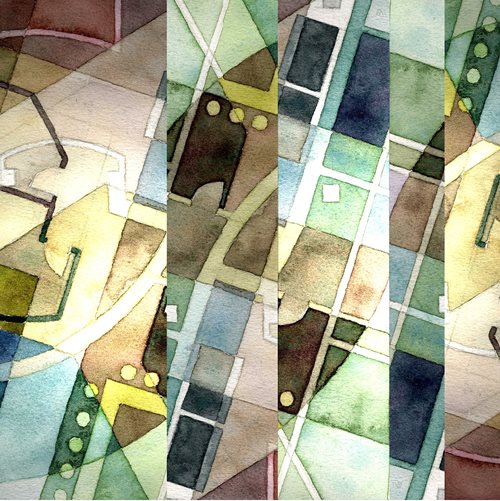 Jihyun Song,
Hidden Geometry of the Interior: Compositional Study
,
2009, watercolor, digital print, 22 ¾ x 25 inches
Marymount University — Barry Gallery
Interior Design Faculty Exhibition
Barry Gallery is pleased to present a group exhibition by Marymount University Interior Design faculty members Moira Denson, Salvatore Pirrone, Douglas Seidler, and Jihyun Song, on view through November 20, 2020.
Please join us on Friday, November 20 at 5pm for a virtual Barry Gallery talk and closing happy hour, celebrating the exhibition by Marymount University Interior Design faculty members Moira Denson, Salvatore Pirrone, Douglas Seidler, and Jihyun Song.
As the Interior Design Faculty Exhibition makes clear, design and fine art are closely linked. Indeed, for the designer-artists whose work is on view, the line between these disciplines, if it exists at all, is blurred. Showcasing both three-dimensional and two-dimensional work in traditional and new media, the exhibition not only provides aesthetic experiences for the viewer, but also highlights creative processes and media that bridge contemporary interior design and fine art.
Moira Denson states, "My teaching and writing is informed by an intentional practice of observing, sketching, and painting both the natural and built environments." The body of work in this exhibition reflects her recent embrace of watercolor painting, which she engages in weekly with a vibrant, multi-generational group of women artists. The paintings, much like effective interior designs, are built upon formal foundations. As Denson writes, "I design each painting with a composition focused first on value and then on color."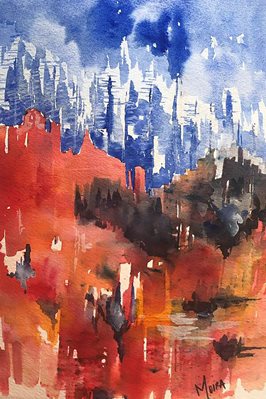 Moira Denson, Canyons 2, 2019, Watercolor and Brusho on paper, 12 x 15 inches
Salvatore Pirrone is an educator and sculptor exploring themes of work, play, and identity. In his studio practice, Pirrone examines issues of phenomenology, materiality, and our relationship to the built environment, both physical and psychological. Equally active in design and fine arts worlds, he has exhibited in the DC metro area at Arlington Arts Center, IA&A at Hillyer, Sandy Spring Museum, The Atlas Performing Arts Center, Shepherd University, Maryland Art Place, Transformer, and most recently at the Arlington Partnership for Affordable Housing.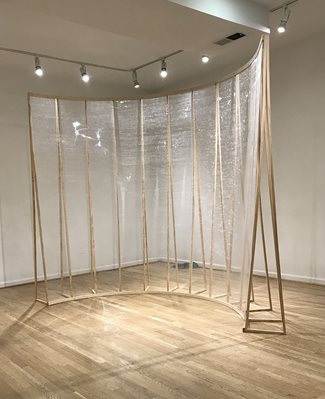 Salvatore Pirrone, 1,382,400 plus or minus 115,200,
2018, wood and acrylic film, ½ circle, 7' diameter x 8'h
Douglas Seidler seeks in his work to "create a connection between architecture and history, between architecture and environment, between architecture and place." In the drawings on view, Seidler reimagines Tampa Bay Center, an abandoned mall structure in Florida. As he writes, "The private-public space of contemporary malls physically and economically isolates these malls from the cities and communities in which they are dropped." His drawings provide a rescaling of the public and private zones, plans for reattaching the public space with its site and city, and an imagined reoccupation of the former commercial mall with vital programs for citizens.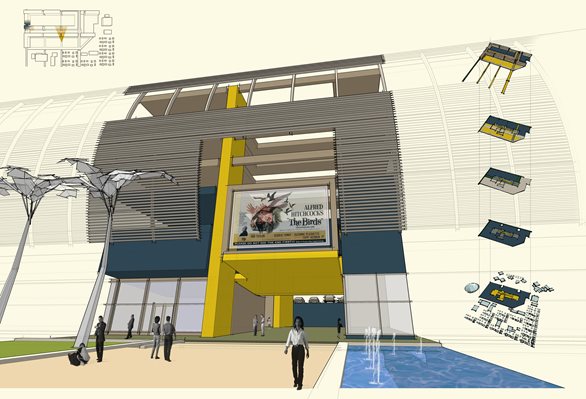 Douglas Seidler, Thresholds and Edges i012, 2000, digital print, 15 x 22 inches
Jihyun Song states that "two-dimensional composition helps to communicate how elements of space are perceived, defined, and overlapped. While expanding design thinking in the right brain, I synthesize countless spatial concepts into a coherent whole via a series of visual work." She is inspired by "active imagination from the eye of the mind, expressed through an orthographic drawing method articulated specifically with floor plan drawings." Using water-based paints applied in transparent layers, Song creates a "modulated scale of colors," which articulates both architectural and pictorial space.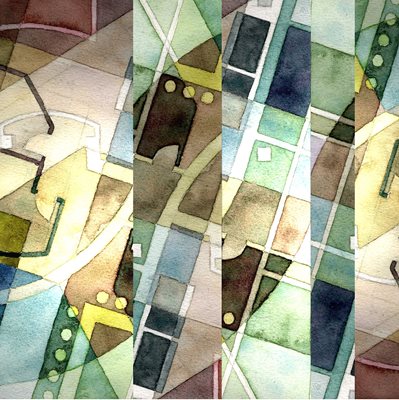 Jihyun Song, Hidden Geometry of the Interior: Compositional Study,
2009, watercolor, digital print, 22 ¾ x 25 inches
Barry Gallery, located in Marymount's Reinsch Library, 2807 North Glebe Road, is open 10am – 8pm Monday through Thursday, and 10am – 6pm Friday and Saturday. Admission is free. (The gallery is closest to the 26th Street entrance of Marymount, just north of Yorktown Boulevard. Access for individuals with disabilities is available.) For more information, please visit www.marymount.edu/barrygallery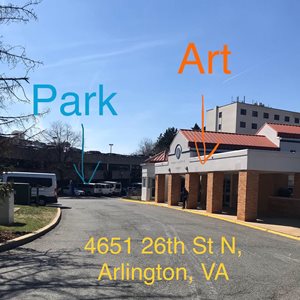 The Barry Gallery
Marymount University, Main Campus
2807 N. Glebe Rd.
Arlington VA 22207