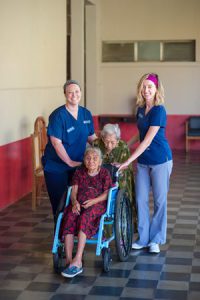 Our medical mission allows students and faculty to travel to orphanages, nursing homes, long-term care facilities, and rehabilitation clinics where we provide physical therapy services to under-served populations. There, we are able to administer individualized screenings, evaluations, skilled treatments, and other services to patients who do not have adequate access to necessary medical care. We also emphasize caregiver and patient education as integral parts of this mission, ensuring that our vision provides a lasting impact on the communities we serve.
For the past seven years, third-year DPT students traveled to Costa Rica, building a thriving physical therapy practice in an orphanage, which protects and cares for abandoned persons living with severe and profound neurologic disorders.
The DPT Class of 2022 is excited to continue the challenging task of building a successful practice in Nicaragua. We aim to establish a foundation for a self-sufficient physical therapy practice that will be accessible to all persons in need of care.
Due to the COVID-19 pandemic, the Class of 2021 was unable to carry out their medical mission trip in Nicaragua. We hope to continue the tradition this year to further expand adequate physical therapy services to those in need.
Check out blogs from previous years here:
DPT Class of 2018 Service Trip
To learn more about the most recent trip (Class of 2019) trip, please visit their Nicaragua Service Mission trip 2019 site.