2020 Marymount 5K Cancelled
In alignment with best practices and our desire to create a safe environment for our participants, race volunteers, and community we are cancelling the 2020 Marymount 5k.
All registered participants have the option of being moved to the 2021 race or using their race fees as a tax deductible donation to the Marymount University Dept of Physical Therapy.
We are compiling a list of participants using this google form so that we can register you for next year's race or send you a receipt of your donation.
We appreciate your support, this was a difficult decision for our team but one we felt was necessary.
Any questions may be directed to MU5k@marymount.edu
---
SATURDAY, APRIL 4, 2020
CHECK-IN: 8:00AM
RACE STARTS: 9:00AM
More Race Day Info: click here
Register here! There are only 350 spots available for runners/walkers, so don't wait!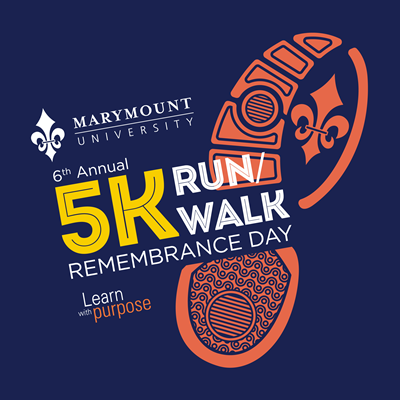 ---
Our History
Marymount University Doctor of Physical Therapy program hosted the first Marymount 5K in the spring of 2015. We have attracted over 500 runners annually and raised over $20,000 each year to support our medical mission.
About Our Race
Join us in 2020 for the sixth annual Marymount 5K supporting the Department of Physical Therapy's foundational pillars of Global Perspective, Service to Others, and Intellectual Curiosity. The Marymount 5K also celebrates Marymount University's Remembrance Day.
Remembrance Day
Remembrance Day began in 2006 when several classmates of Tara Howard came together for a service project in her memory. A freshman known for her work with the homeless, the elderly, and abused women, Howard had been killed in January of that year in a car accident. A joint celebration of service now includes reflections on all those of the Marymount community who have passed away.
Our Medical Mission
Our medical mission allows students and faculty to travel to orphanages, nursing homes, long-term care facilities, and rehabilitation clinics where we provide physical therapy services…Read more
Interested in donating to an amazing cause?
You don't have to run to help change lives around the world! Please contact us at MU5K@marymount.edu if you have any questions or click here. All donations are accepted, big or small!

You can view 2019 race results here.