Why a Marymount DPT Degree is Right for You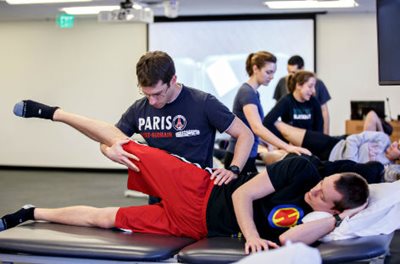 Program Overview
The three year, full-time only Marymount Doctor of Physical Therapy Program curriculum consists of:
102 total graduate credits
85 credits of coursework and 17 credits of full-time clinical practicums
Credits are organized around 25 courses

22 graduate courses
3 full-time clinical practicums

Courses are delivered over 9 semesters.
Visit our Curriculum page for a semester-by-semester DPT Curriculum Plan of Study.
Engaged Faculty
Learn using innovative education and healthcare delivery strategies from expert faculty and clinicians.
9 full-time faculty responsible for 85% of course delivery
56% of full-time faculty are board certified clinical specialists
Exceptional faculty retention with an average of 12 years of service
1:13 faculty to student ratio; with labs at 1:10
Marymount's DPT faculty stay current regarding contemporary practice through active involvement in the APTA and several APTA specialty sections, engaging in clinical practice, and maintaining a broad network of professional colleagues with whom we regularly collaborate.
The program has an advisory committee that provides insights into the community's perceptions of contemporary practice; and regularly solicits feedback from our Clinical Instructors (CI) and Site Coordinators of Clinical Education (SCCE) about changing trends in practice and recommendations for modifications in academic preparation of PTs related to these trends.
Instructional Methods and Learning Activities
A unique aspect of the Marymount Doctor of Physical Therapy program is the use of the modified problem-based (PBL) curriculum design. Despite it's proven effectiveness in promoting clinical reasoning and life-long learning, less than 10% of accredited DPT programs employ this method of learning.
What is Problem-Based Learning?
Learning "in context" by using clinical cases and small group discussion called tutorials where faculty act as facilitators
Traditional course content is integrated into clinical cases
Students become skilled at problem solving; they identify information that is applicable and relevant and integrate it to the clinical situation.
Students take responsibility for learning which enhances intrinsic motivation and life-long learning
Global Education and Service Opportunities
The Doctor of Physical Therapy Program offers a unique service learning opportunity for physical therapist students to experience a culture different from their own.
DPT students can spend the final 2 weeks of the 11-week clinical practicum as members of volunteer teams providing physical therapy and other general health services to under-served populations abroad. For the last several years, students have travelled to Costa Rica and Nicaragua in Central America.
Students experience variations in individual, social, political, economic and health values while delivering physical therapy services. Direct access to patients and minimal resources for patient management typical of rural settings challenge their decision-making and creativity as developing practitioners.
Appreciation for global health concerns and a requirement to contribute to health and well being of a disadvantaged population are included among the clinical practice outcomes.
Medstar NRH Rehabilitation Network, Marymount University
In June 2014, Marymount University (MU) entered into a partnership with Medstar NRH Rehabilitation Network (MNRN). MNRN will operate a physical therapy clinic in the same building as the Department of Physical Therapy allowing for an enriching environment for MU physical therapy students to gain valuable clinical education experience.
MU Go Baby Go!
MU Go baby Go! transforms the lives of children with mobility challenges by providing adapted battery powered cars and 4-wheelers to help these kids move in their environment … just like other kids do.
At Marymount, the Doctor of Physical therapy students and faculty have opened up MU Go Baby Go! and have been building cars to transform lives since 2014. The team has built cars for patients in the Northern Virginia area and also was the first to build cars for patients in Costa Rica.
To learn more, visit our MU Go Baby Go! page
Northern Virginia Falls Prevention Regional Traning Office (RTO)
In August 2016, an interprofessional team of four faculty, including the DPT Program founder and current Associate Provost, Dr. Rita A. Wong, and two faculty members from the Physical Therapy Department, Dr. Cathy Elrod and Dr. Diana Venskus, received a $480,000 federal grant from the Administration on Aging to embed evidence-based falls prevention programs across Northern Virginia. The goal of the grant is to establish Stay Active and Independent for Life (SAIL), A Matter of Balance (AMOB), and Otago Exercise programs in the region. Staying physically active and exercising regularly are key contributors to minimizing the risk of falling. A network of agencies and organizations is also being built to sustain and continue the reach of these programs once the grant is over. Students have the opportunity to interact with the community in a variety of ways to assist in these fall prevention activities.
This grant was renewed in 2018 with the addition of a third PT faculty member, Dr. Julie Ries.
For more information please visit the Northern Virginia Falls Prevention Alliance website.