The Marymount Intrapreneurship Initiative is supported by a group of prominent and connected local intrapreneurs, who have generously donated their expertise and funds to launch and carry out the Initiative. They are: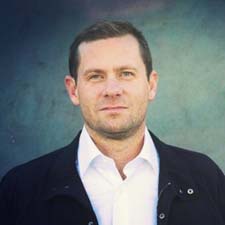 Ben Foster
Ben is one of the foremost experts in product management and design in the Greater Washington region. He has been a formal advisor over 40 startups, including several noteworthy companies such as Contactually, FiscalNote, and Aquicore. Ben is the Chief Product Officer at GoCanvas, and also advisor to companies that are focused on delivering the best products to their customers. Previously, Ben was VP Product and UX at Opower during its rise from a 40-person underdog to a $1 billion publicly-traded company and was the mastermind behind major product innovations.
Ed Barrientos
Ed is CEO and Chairman of the Board of Brazen, a high-growth tech company in the cloud-based, HR software space. Prior to Brazen, he was President and CEO of Arc Second Inc., a high-growth market leader in laser-based measurement and 3D positioning technology. Ed led Arc Second to a successful exit (acquired by Metris NV of Belgium) and served on the Board of Directors of Metris NV through the Company's IPO and its subsequent acquisition by Nikon (Japan).
As a well-known serial entrepreneur and angel investor, Ed is very engaged with university students, entrepreneurship groups, and angel investment forums. He has served on university advisory boards and has been both an entrepreneur-in-residence and an angel-in-residence. Ed is a national faculty member at the National Science Foundation Innovation Corps.
Erich Baumgartner
Erich is a highly successful sales and marketing executive who has been part of many successful technology product companies. He has used this experience to bring new technologies to market through startups that were subsequently bought as we as to help larger companies achieve significant sales growth. Companies he has helped grow to include Phantom, Q1 Labs, Ingrian, Sourcefire, Cisco and Sun Microsystems.
Elizabeth Shea
Elizabeth Shea founded SpeakerBox Communications- a company that became one of the most successful communications firms serving technology companies in the D.C. area. In 2019, SpeakerBox was acquired by digital marketing and branding company, REQ where she continues to support the technology and entrepreneurial ecosystem in the region.
Elizabeth serves as board chair for the Technology Marketing Alliance and on the board of MindShare.
Gene Riechers
Gene has a broad range of successful operating and investment experience. This has spanned a career in both information technology companies and venture capital. He spent 16 years in the venture capital industry where he co-founded 2 firms and raised a total of $660 million while serving on a number of boards. Before and after his venture capital career, he has been Vice-Chairman, COO, General Manager, and CFO in several successful high-growth technology companies. Gene has been involved in more than a dozen IPOs as an operating executive and as a director.
Harry Klaff
Harry Klaff is an Executive Managing Director with JLL, specializing in Tenant Representation. He leads the region's High Tech Practice Group and has over 30 years of experience in commercial real estate.
Harry has a track record of structuring complex real estate transactions, such as build-to-suits and sale-leasebacks on behalf of high technology companies, government contractors, professional services companies, government contractors, and financial services companies. Over the last five years, he has completed real estate transactions valued in excess of $10 billion for the region's leading space occupiers.
Mary Tucker
Mary Tucker has more than 24 years of combined experience in leadership, management and operations in the corporate and nonprofit sectors. An independent defender of women's rights and ardent patient advocate, she founded UPIC Health, LLC in 2014 after identifying an urgent need for value-based customer care in the healthcare industry. Tucker was recognized by Smart CEO Magazine with a 2016 BRAVA Award and is a selected member of The Women's Media Center's SheSource, an online database of media-experienced women experts.
Mark Walsh
Mark is an expert on technology business growth and leadership. He is the CEO of FactSqured. His prior executive leadership experience includes senior roles at Vertical Net, AOL and General Electric. He has served as a Board member for many technology product companies, public companies and not for profits. He has also worked as both venture capital and active angel investor. In addition to his work as a business founder, he has been involved in politics as the first CTO for the Democratic Party.
Michael Avon
Michael Avon is an entrepreneur, venture capitalist and executive with extensive experience in data analytics, marketing & media technology, SaaS, FinTech, cybersecurity and education technology. Michael has founded multiple companies and served in numerous leadership roles in those companies. Michael has also worked for several venture capital funds in the Greater Washington, DC area and is an active angel investor, advisor and mentor in the local start-up community.
Steve Trax
Steve Trax is a Regional Managing, Director of MAI Capital and Co-Head of MAI Sports & Entertainment. Steve joined MAI after the acquisition of MTX Wealth Management, LLC —a Registered Investment Advisory firm he founded in 2007. He has 30 years of experience in the financial services industry, developing value-added financial planning and investment strategies to the firm's elite group of professional athletes, coaches, sports executives, entrepreneurs and high net worth clients. Prior to joining MAI Steve spent 20+ years working in with professional athletes within MTX and SFX Sports Group. Steve started his career in the public accounting arena working nine years in the private client service divisions of both Price Waterhouse and Arthur Andersen.
Terry Hsaio
Terry Hsiao is an entrepreneur, advisor and investor with extensive experience in mobile messaging, payment and cloud infrastructure. Terry has founded multiple companies and serve currently as Head of Strategy at Kaleyra, a cloud communications platform company. Terry served two terms on the board of the Center of Innovation and Technology, a state funded economic development and investment agency in the Commonwealth of Virginia. He is the current President of Monte Jade DC.