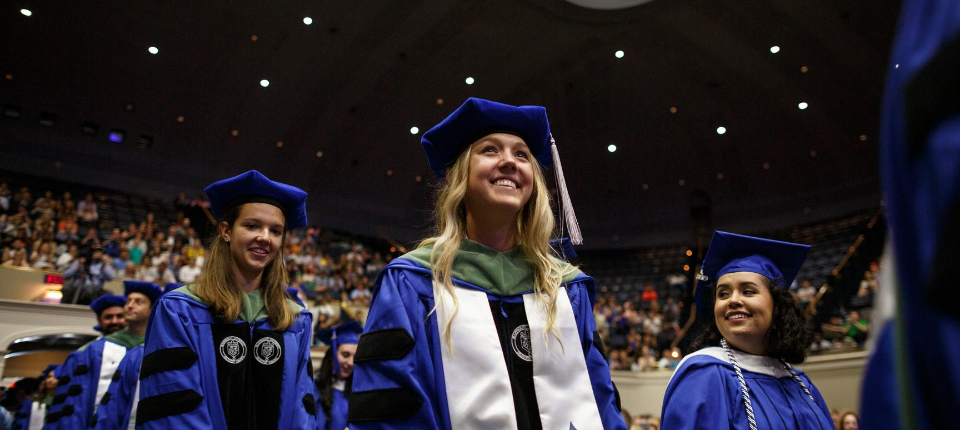 When you graduate from Marymount, you are a Saint for life. Whether you are a recent grad or a seasoned professional, the Center for Career Development can provide assistance with all aspects of the job search process.
Alumni Resources
Handshake – Marymount alumni have access to Handshake, our main career, and job recruiting platform. On Handshake, alumni can apply for jobs, schedule 1:1 advising appointments with Marymount Center for Career Development staff, connect with employers, and register for events. Learn more about Handshake, or log in now. Please note, you will need a Marymount or alumni email account to sign up or log in to Handshake. Click here to get started on Handshake!
Advising appointments – As a Marymount alumn, you are eligible to schedule 1:1 advising appointments via Handshake for resume, cover letter, and professional document review, grad school application assistance, mock interviews, and career advising. Schedule an appointment today through Handshake to meet with an advisor!
Attend a networking and opportunity fair – Attend the many networking and opportunity fairs we are hosting! Visit Handshake to register. For a full list of our fairs, visit our Events page.
Get Involved
Share your experience – The Center for Career Development will be hosting workshops and panels on various subjects ranging from career readiness to diversity, equity, and inclusion in the workplace. If you are interested in sharing your experience and expertise with the Marymount community, email us at careerdev@marymount.edu, and let us know what events you are interested in participating in as a guest speaker!
Share your Successful Saint Story – Would you like to be featured on our website and social media, and share your career journey? If so, email us at careerdev@marymount.edu to share your success stories and be featured on our website and social media!
Stay connected
Join the Alumni Email List – If you are interested in receiving up-to-date information about Marymount University and joining our mailing list, please contact the Office of Advancement at alumni@marymount.edu.
Newsletter & Social Media – Stay up-to-date with all of the great news from Marymount. Each month, e-newsletters include a message from academic leadership, student stories, alumni spotlights, faculty news, and ways you can be involved. View the monthly newsletter here.
Alumni Email Account – Marymount is pleased to provide a Google Apps email account for MU alumni. This email address also includes email forwarding, calendar, documents, sites, etc. Please follow these instructions to log into your existing account, or create a new account.
Marymount University Alumni Association – Visit the Alumni Association Website to learn more about events, news, and ways to get involved!