One of higher education's most important responsibilities is to help individuals become enlightened and well-rounded persons. It is for this reason that every college or university you consider will require you to complete courses that cover specific subject areas and develop specific skills.
The Liberal Arts Core curriculum includes courses in writing, mathematics, the natural and social sciences, humanities, philosophy, and theology or religious studies. Beyond these core courses, Marymount also requires coursework that includes inquiry-based learning experiences, exposure to global perspectives, and an opportunity for experiential learning through an internship or research project. These are known as "University requirements."
The Liberal Arts Core includes course requirements at both introductory and advanced levels, to achieve both breadth and depth. University requirements are satisfied by a variety of designated courses. Some are part of the core curriculum, some are electives and some are in a major program, so if they are chosen carefully they do not add credit hours to the degree.
You should work with your academic advisor for guidance in course selection to fulfill University, Liberal Arts Core and Major requirements; some programs specify coursework to complete Liberal Arts Core and University requirements.
The University Catalog lists both the courses that fulfill the University Requirements, and the courses that fulfill the Core Requirements.
Liberal Arts Core and University Requirements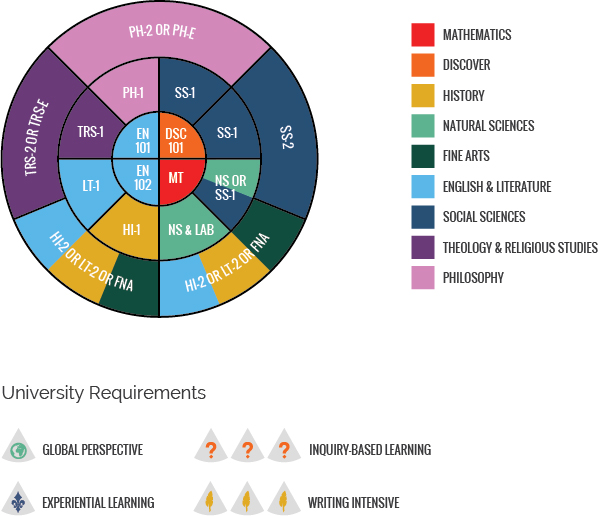 Liberal Arts Core Requirements
Humanities
12 credits
Introductory History and Literature courses:
HI-1 Introductory History
LT-1 Introductory Literature
Two designated courses in two different fields from Fine Arts, advanced History, or advanced Literature:
FNA Fine Arts
HI-2 Advanced History with a prerequisite
LT-2 Advanced Literature with a prerequisite
Mathematics
3 credits
MT — One Mathematics course. Credits for MA 019W, MA 094, and MA 095 may not be applied toward any degree.
Natural Science
4 credits
NS — At least one Natural Science course with laboratory from either:
Astronomy (ASTR)
Biology (BIO)
Chemistry (CHM)
Geology (GEOL)
Physics (PHYS)
Physical Science (PSC)
Students have the option of completing a second Natural Science course, as outlined under Social Science.
Social Science
12 credits
Two introductory Social Science courses in two different fields:
SS-1 Introductory Economics, Politics, Psychology, or Sociology
One advanced Social Science course:
SS-2 Advanced Social Science with a prerequisite
A third introductory Social Science course or a second Natural Science course (lab optional):
SS-1 Introductory Social Science (in a third field)
NS Natural Science (lab optional)
Philosophy, Theology, and Religious Studies
12 credits
Introductory courses in Philosophy and Theology/Religious Studies:
PH-1 PH 100 Introduction to Philosophy
TRS-1 TRS 100 Theological Inquiry
Advanced courses in Philosophy and Theology/Religious Studies*:
PH-2 Advanced Philosophy with a prerequisite
TRS-2 Advanced Theology or Religious Studies with a prerequisite
*One of these advanced courses must be a designated moral principles (Philosophical Ethics PH-E or Theological Ethics TRS-E) course
Written Communication
6 credits
WR — EN 101 Composition I and EN 102 Composition II are required, with a minimum grade of C- in each class.
First Year Seminar*
3 credits
DSINQ – DSC101, Discover First Year Seminar
*Students transferring between 12 and 63 credits take DSC 201, Transfer Student Experience (1 credit) instead of DSC 101.
University Requirements
One global perspective course (GP)
Three inquiry courses (INQ)
Three writing intensive courses (WI)
One experiential learning course (EXP)
Some major programs recommend or require students to fulfill some of the Liberal Arts Core or University Requirements through specific courses. See the Undergraduate Catalog for specific major requirements.