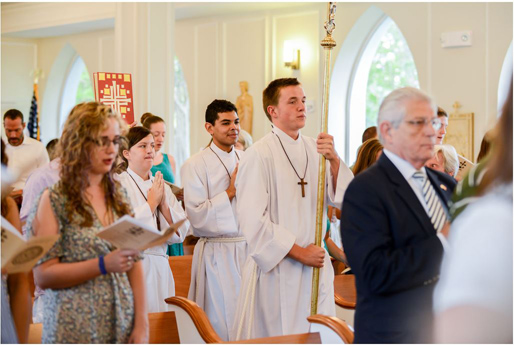 There are many opportunities to live your faith and serve the worshipping community of Marymount University as a liturgical minister. We welcome your participation in liturgical ministries at Marymount; in fact, we depend upon it! We offer the Holy Sacrifice of the Mass with reverence and devotion.
Share your time serving as a…
Lector
Lectors read Sacred Scripture at Daily or Sunday Masses.
Extraordinary Minister of Holy Communion (EMHC)
Lay ministers are commissioned to serve through helping with the distribution of Holy Communion at Mass.
Altar Server
Servers assist the priest during Mass, bearing the cross in procession and fulfilling their role in the liturgy.
Greeter/Usher
Greeters welcome people to Sunday Mass, handing out the monthly Light Post and assisting with the collection.
Sacred Linen Caretaker
Sacred Linen Caretakers assist with the proper care, cleansing and ironing of the Altar Linens for Mass.
Please contact Campus Ministry to assist with any of the above mentioned Liturgy Team.