Destiny Welch – Senior Admissions Counselor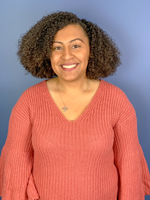 Hailing from gorgeous Prince George's County, Maryland, I am a proud Marymount University Class of 2016 alumna! It was through my unique experiences as a Student Athlete and Student Ambassador that I discovered my passion for working with students in higher education. I encourage students to take a close look at MU because of the personal attention received from professors, and the feeling of a tight knit community. As the saying goes… "Once a Saint, Always a Saint" and I can't wait to welcome you into our Marymount community! Do not hesitate to reach out to me with any questions you may have.
About Destiny
Education:
BS Health Science, Marymount University '16
Favorite Food:
Snow Crab Legs Dipped in Butter
Hometown:
Forestville, MD
Favorite Location on Campus:
Converse Family Field House
Best College Search Process Tip:
Visiting and touring college's are great experiences for you and your family, but it's also important to take the time and explore the area you will be living in. Campus life is only one part of the college experience—the other part is visiting monuments in DC, trying all the local restaurants, diving deeper into history, and immersing yourself in a variety of cultural experiences. I recommend getting an idea of just how accessible a campus like Marymount is to other local attractions. These really are some of the best years of your life; so make sure you live somewhere in which you can make some great memories too.
Contact Destiny
Phone: 703-284-1504
Email: destiny.welch@marymount.edu
Twitter: @MUAdmissions