Benjamin Blue – Senior Admissions Counselor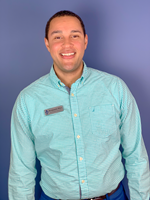 As a first-generation college student, I believe education is the door to future success. My passion is getting up everyday to speak with students like yourself, helping to open that door. Any questions or concerns you have about Marymount – whether it is the college application process, scholarships, or financial aid, I am more than happy to discuss it with you. Also, if you want to discuss Marvel vs. DC, the new Star Wars film, theology, or even sports (minus Lebron James, we are all tired of discussing Lebron James), I'm all ears.
About Benjamin
Education:
B.A. Global History, University of North Carolina at Chapel Hill '14
Favorite Food:
North Carolina BBQ
Hometown:
Dunn, North Carolina
Favorite Location on Campus:
Ballston Starbucks
Best College Search Process Tip
Take time to explore your options. It's about finding your best fit. Find a school that matches your personality, goals, and aspirations. Your biggest advocate is your Admissions Counselor so get to know them also! The truth is, everyone you meet at Marymount will become your biggest advocate. As a small liberal-arts Catholic university located near our nation's capital, we have something for everyone.
Contact Benjamin
Phone: 703-284-1503
Email: bblue@marymount.edu
Twitter: @MUAdmissions