Come DISCOVER with us!!
The curriculum and co-curricular experiences at Marymount University are designed to support each member of the community in a life-long journey of discovery:  Discovery of self, of others, of the world around us, of other places and times, and of ideas.  Thus you, as an entering student, will take a one-credit Discover (DSC) 201 course.  These courses are designed to allow you to engage with the professor in inquiry into, and open-ended exploration of, a topic or concept of interest to the instructor who might otherwise not have the opportunity to investigate that question.  We want to promote not just the skills needed for you to find solutions to problems – but we also want to help you ask good questions and engage in debate in a community of other students all beginning their exciting Marymount adventure.
We're also very excited about the "peer mentor" aspect of our Discover program.  Those sections of the course titled "Discovering Self in Community" have peer mentors, experienced MU students who have been selected for their enthusiasm, approachability, understanding of Marymount and its systems, and commitment to supporting new students. The peer mentors work with and complement the faculty in the teaching of these DSC sections and serve as a resource to you as you adjust to college life and the Marymount way.
We hope you find the array of topics for the DSC classes intriguing!  And we encourage you to let your advisor know which of the sections would be of most interest to you so that your advisor can then help build the rest of your schedule around your DSC experience.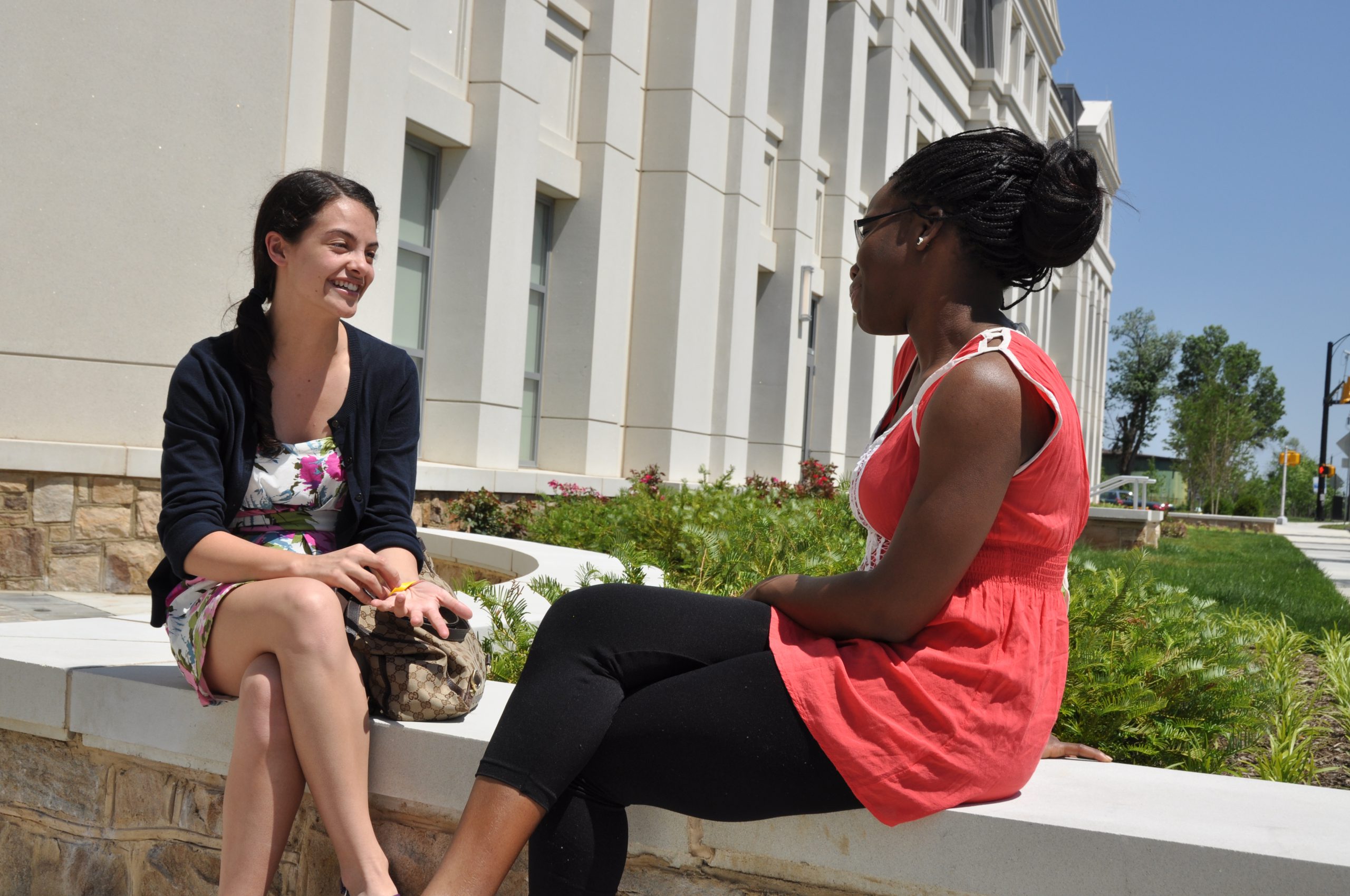 Fall 2020 DSC Course Descriptions
DSC-201-A, C, E, F, G, H, J, K, L, M, R, S, X, Y, Z and OLB
Discovering Self in Community  
Students will be asked to apply the inquiry process to their own transition to Marymount, through intentional reflection, goal setting, developmental curriculum, and discussion. Students, with faculty and a peer mentor, will explore topics such as the nature of the MU and Arlington communities, the culture of higher education, growth v. fixed mindset, emotional intelligence, the MU mission and values (service, curiosity, a global perspective), learning styles, financial literacy, self-care/well-being, and career preparation. They will attend campus events and create a portfolio that will include a life map and an academic and career plan.
Instructor: Troy Cogburn (Section A), Dr. Lois Stover (Section C), Alexandra Fee (Section E), Dr. Shannon Melideo (Section F), Shawna LeBlond (Section G), Jennifer Crystle (Section GC), Dr. Todd Rimkus (Section H), Ana David (Section J), Dr. Ana Lado (Sections K and L), La'Sandra Lockett (Section S), Catherine Hillberry, RN, DNP, CHSE (Section OLB, an online course)
DSC-201-I
The Chemistry of Candy   
Flavor and texture both contribute to the pleasure derived from eating sweets. In this course we will use a combination of theory and experiment to explore and learn to manipulate the properties of candies and sweets.
Instructor: Dr. Laura Medhurst
DSC-201-N and P
Create and Maintain Your Brand  
New and innovative brands are popping up everywhere in the digital marketplace. We, as consumers, have so many choices today. Some brands celebrate 50+ years while others disappear within a two-year span. Why?
This course encourages students to explore the importance of branding – "you" as a brand, and today's brands. Determine the core principles and basic fundamentals of branding with a chosen brand by students as well as how brands compete in today's marketplace and online.
Instructor: Dr. Elissa Ruffino
DSC-201-O and Q
Spreadsheets    
Do you want to:
Understand spreadsheet software and identify Excel 2016 window components?
Create, edit, and manipulate formulas and functions in different data sets?
Apply conditional and other types of formatting to worksheets, values, and patterns?
Identify data relationships and visualize information in different graphic representations?
Analyze and consolidate data in addition to understanding logic formulas?
If you answered yes to one or more of these questions, then this section is for you!
Instructor: Micheline Al Harrack
DSC-201-T
From the Beatles to Kanye West: Music Through the Ears of an Economist   
In this course, students will explore the relationship between economics and music in pop culture. Did Lupe Fiasco advocate against fiscal policy in "Words I Never Said"? Did The Kinks try to explain price control when they released "A Gallon of Gas" in 1979? Perhaps Bono wanted to highlight international trade in U2's song "Beautiful Day." Competitive advantage, supply and demand, opportunity cost, unemployment, and inflation are some of the key economic concepts we will explore using music. Learn how to analyze lyrics from an economist's perspective.
Instructor: Dr. Amel Ben Abdesslem
DSC-201-U
The Power of Positive: Looking for the Good in Challenging Times  
This course will explore the tenets of Positive Psychology with the goal of increasing happiness. Class assignments will involve doing positive deeds for self and others. In addition, character strengths will be measured and students will work on improving character strengths through outside activities. Come examine your own happiness and seek ways to increase gratitude, kindness, and forgiveness. Weekly activities and a final reflection paper will focus on the question: Can you increase happiness in an 8-week class focused on happiness and character strengths?
Instructor: Dr. Tamara Davis
DSC-201-V
Personal and Leadership Development 
Personal and leadership development is designed to provide future leaders with the necessary tools for successful living. This class will explore interesting life topics that will empower and equip students for their future.
Instructor: Dr. Shakina Rawlings
DSC-201-W
Understanding the Deep Dark Web
Ever wonder what the deep and dark web is?  Over 90% of the internet's content is hidden.  Activists, hacktivists, nation states, researchers, and those who seek anonymity utilize the deep dark web.  Being that 90% of the internet remains hidden, it is important for students and professionals to understand these concepts.  By understanding the concepts, students will have a broader perspective on security, safety, reliability, anonymity, and privacy of the web.
Instructor: Babur Kohy
DSC-201-OLA Online

Self-Care and You
This class introduces new students to Marymount University and to the inquiry model of learning. The course aims to ease the transition to a new university through a focus on fundamental liberal arts skills: inquiry, critical thinking, information literacy, and communication, as well as participation in a variety of collaborative activities that offer positive interaction and support from the instructor, and classmates.
In this particular section, we will investigate the following course objectives:
Identify some of the ways you may cope with problems
Clarify differences between effective and ineffective coping strategies
Recognize signs of distress in yourself and others
Learn ways to help yourself and others deal effectively with problems
Provide information about resources on campus and in the community
Instructor: Catherine Hillberry, RN, DNP, CHSE
DSC-201-OLC Online
Social Determinants and the Impact on Health
This class introduces new transfer students to Marymount University and to the inquiry model of learning. The course aims to ease the transition to a new university through a focus on fundamental liberal arts skills – inquiry, critical thinking, information literacy, and communication – as well as participation in a variety of collaborative activities that offer positive interaction and support from the peer mentor, instructor, and classmates. Additionally, this class explores the social determinants of health and why some people and communities are healthy and others are unhealthy.
Instructor: Dr. Karen Benson
HON-101
The Quest: Food, Ethics, and Society
This seminar is devoted to introducing first-year honors students to various forms of academic inquiry, i.e. "The Quest" for knowledge. We will read scholarly articles, engage in discussions and debates, and participate in experiential and service learning opportunities to help us understand the impact that our seemingly personal food choices have on other people, animals, and the environment.
Instructor: Dr. Stacy Lopresti-Goodman