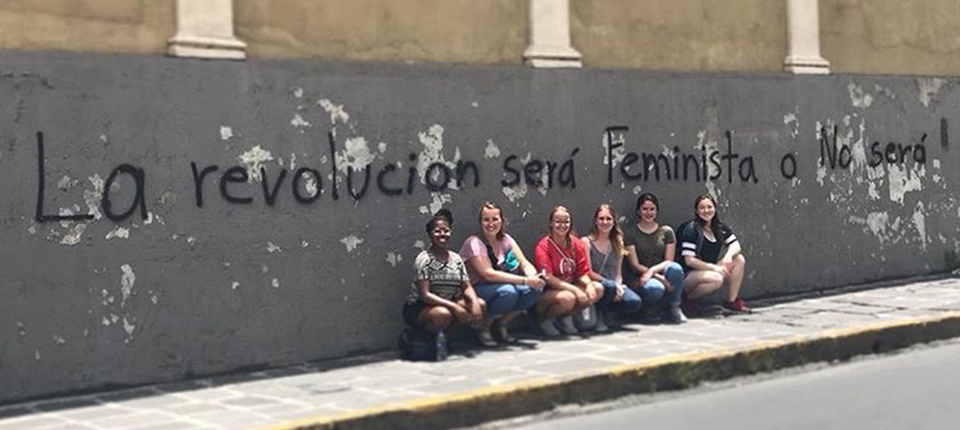 The Center for Global Education offers an array of programs of varying types. Whether you are interested in directly enrolling in a foreign university or traveling abroad with a group of fellow Saints and a faculty leader, there is certainly a program out there for you. Follow the links on the menu to learn more about each of the different program types.
You can explore programs through our Study Abroad Portal* as well.
*Please be aware that the Study Abroad Portal does not run on Firefox.
Choosing a Program
Deciding to study abroad is exciting, but sometimes selecting a program can be overwhelming and even a little scary. Programs vary greatly in structure, length, and benefits. There is a lot to consider among many different program types and destinations. The most important thing, regardless of which program you choose, is to research your options and plan ahead with your academic advisor and the Center for Global Education (CGE) staff.
Step 1: Watch or Attend a Study Abroad Information Session
We have recorded our Discover Your World session that provides the basics of each type of course. You can watch this below or check the CGE's Engage to see when the next one will be. Here you will learn about the different types of global programs MU offers, how to search for programs, and which tools and knowledge you will need to study abroad.
Step 2: Identify your goals
As you consider your options, it's important to think about what kind of experience you want to have and what you are looking for in a program in addition to destination. Here are a few questions to get you started:
Are you looking for an immersive, independent experience, or would you prefer to travel with a group of Marymount students?
Do you need to take specific classes, or do you have electives or general education requirements that you can fulfill abroad?
Are you interested in a region of the world or a specific country?
Are you interested in studying a foreign language?
What skills do you want to develop while abroad that are important in your future career?
Are you interested in having an internship be part of your program abroad?
Step 3: Meet with your Academic Advisor
Plan early! Talk with your academic advisor as soon as possible about your intent to study abroad. Some courses may be easier to take abroad than others. Furthermore, depending on your major, you may need to go abroad during a specific semester in order to make sure you complete the requirements for your degree on time. Once you have selected a program, you will need to meet with your academic advisor again to make sure the courses you plan to take satisfy your academic requirements and keep you on track for graduation.
Step 4: Explore your program options
There are many options to choose from! Explore the different program types the CGE offers and begin researching programs that may be a good fit for your goals and interests by searching for programs in our Study Abroad Portal*. Take notes and write down questions to ask during your meeting with the CGE staff.
Step 5: Meet with the CGE staff
After you have identified your goals and started to explore the different study abroad program options, you should schedule an appointment with a member of the CGE staff. The type of program you're interested in will determine who you should meet with:
Step 6: Apply
Once you have completed the steps above and decided on a program, you are ready to apply. Please go to our Study Abroad Portal, find the program you had chosen with the CGE, and begin the application process. 
*Please be aware that the Study Abroad Portal does not run on Firefox.