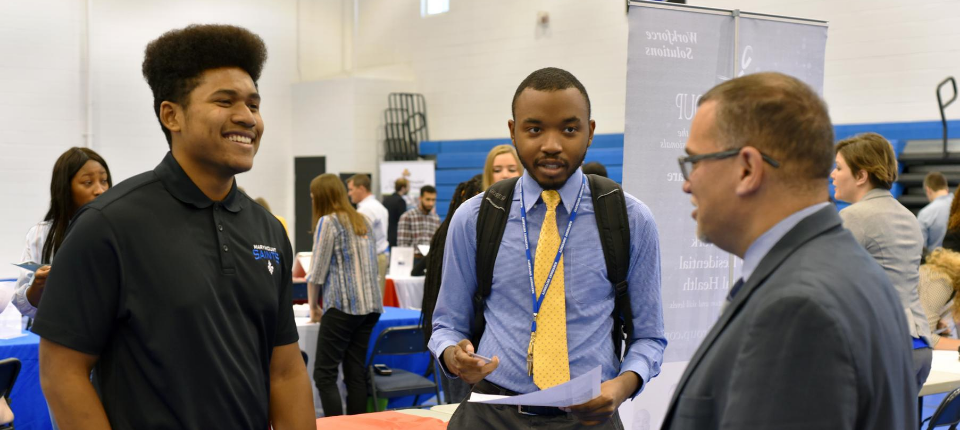 If you are an employer and looking for a talented, diverse pool of candidates for your college recruiting needs, you have come to the right place! Please follow the steps below to start hiring Marymount Saints.
1. Create a Handshake Account:
The first step to recruiting Marymount University Talent is for your company to connect with Marymount University on Handshake. Handshake helps employers find, access and hire the best college talent, by allowing you to post job and internship openings, sign up for on-campus recruiting events and more. Setup a Handshake account free of charge.
To get started with Handshake, you will:
Activate your account by clicking here.
​Connect and be approved by universities. Click here for instructions.
Begin posting jobs on Handshake. Click here for instructions. Please make sure to provide as much detailed information as possible, to provide students with a better understanding of the opportunity.
Please expect a response within 24-48 hours to account for weekends and/or holidays.
2. Post Jobs and Internships:
To post a job, or internship on Handshake:
Login to Handshake
From your dashboard, click on Post a Job. You may also click on Jobs (under Postings) on the left side toolbar, then, Create a Job.
Complete the required fields and click Create to save your entry. The more information provided about the job, its requirements, and more, the better.
Please allow up to two business days for your posting to be reviewed.
3. Review Student Applications:
By clicking on the link below you will find instructions on how to access and view student applications. It is important to remember to review student applications, to help you move forward in your hiring process and to help you find the perfect candidate.
Click this link to see instructions.
4. Hire a Student in Handshake:
Once you have reviewed each student's application that has applied for your open position, you will want to move forward with hiring the candidate/s you have selected. Click the link below to learn more about how to hire a student using the Handshake platform.