Literature Track, 2016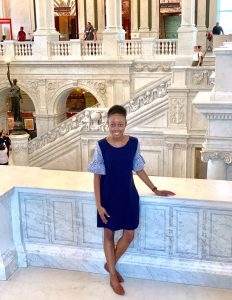 I am currently serving as a Copyright Specialist/Examiner for the U.S. Copyright Office at the Library of Congress. I am also a co-chair of the Montgomery County chapter of a non profit organization called Whine & Cheese, which is a women's empowerment group. I babysit/tutor ESL students and I do volunteer work through my church.
Upon graduating from MU, I held the position of account executive, and later senior account executive, at PR Newswire (a Cision company). In this role I was responsible for managing and building relationships with stakeholders within a designated client base (government agencies, non profit organizations, and public, and private companies), to provide counsel on communications, public relations (PR), and marketing strategies. I analyzed, researched, and resolved client's pain-points. As extra curricular, I contributed as an author and editor to the company's "Beyond PR" blog which is a resource that is used among PR, marketing, and communication professionals.
After just over two years at PR Newswire, I accepted my current position at the Library of Congress. In my current role as a Copyright Specialist/Examiner, my sole responsibility is to administer the Copyright law. Of the three Copyright divisions (Literary, Performing Arts, and Visual Arts), I have chosen to work in the Visual Arts division. I have enjoyed examining works of art ranging from paintings to logos, to book illustrations, to websites, to architectural works, to toy designs, to photography, to magazines, etc. I am proud to have earned this role so early in my career; I am one of the youngest in the Office.
MU played a critical role in shaping strong written and oral communication skills. MU challenged me in ways that resulted in a sense of confidence in my work. Also, it was my MU Senior year internship as a marketing intern with Shannon Morgan Publishing, that sparked my interest in marketing and paved the way to my first job out of college at PR Newswire, which then opened the door to my current role.
I am thrilled to work in a field that allows me to advocate for the creative community. I hope to do more in this realm as my career progresses. Also, I am most passionate about children and hope to become involved in more mentoring opportunities. You are fortunate to attend a university with a strong and supportive English department. At your fingertips you have a multitude of opportunities and resources. Tap into all of them. When it comes time to apply for jobs post graduation, you will have to demonstrate to employers that while you may not have a great deal of "professional" experience, the knowledge and skills you've gained from your time in undergrad make you fully equipped for roles perhaps even beyond entry level. In order for you to demonstrate this and to prepare you for the workforce, seize all of the opportunities you have available to you now. Submit your work to Magnificat and Blue Ink. Show that you are published. Engage in workshop-oriented courses. Show that you can work through constructive feedback to polish your writing as well as have the ability to think critically about your peer's work. Find an internship that will allow you hands on experience in a field of interest. Lay the groundwork now. My last piece of advice is to apply to the jobs that you want, even when you don't think you are fully qualified. You are more impressive than you realize.