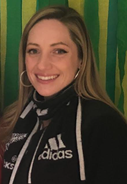 Major English & Humanities
What program did you attend at Marymount University? When did you graduate?
I was a part of the Master of Arts in English and Humanities program and graduated in May of 2018.
What is your current job title/professional industry?
Currently, I am an English teacher at Youth for Tomorrow in Bristow, VA. This is a residential facility for at-risk youth and unaccompanied immigrant minors. I teach 7th – 12th graders English, Literature, Creative Writing, and Keyboarding.
What have you been up to since you were a student at Marymount?
Since I graduated Marymount, I married my husband Max and we are expecting our first child in December. Professionally, I've continued to use my degree to help foster a community of engaged and empathetic learners in my classroom.
What challenges or obstacles did you face in your academic career?
In my academic career I faced the challenge of finding a work-life-school balance. Working full-time while going to school full-time was extremely challenging, but with the help of other Marymount students and extremely supportive staff I was able to make it through!
How did your experiences at Marymount impact your life?
Advancing my education at Marymount made me a more well-rounded individual. Each and every class opened my eyes to new perspectives and points of view. I met people from all over the world, and we shared our experiences and opinions. We were able to learn from one another and grow from each and every classroom experience. My professors changed my life – they truly cared – and continue to care about me and my academic career to this day. I will forever be grateful for that.
What do you see yourself doing in the next few years?
Currently, I see myself continuing to work at YFT for the next few years, but I would like to return to MU to further my education. I grew so much as a person while at MU and look forward to learning and pushing myself once again.
What advice would you share with current students in your program?
I would tell current students in my program to make the most of every single moment. What I mean by that is truly "take in" every conversation you have with other students and your professors. Allow yourself to have your boundaries pushed. Question yourself and your perceptions. Take the advice and criticisms that are offered to you. Push yourself and grow; allow yourself to be open to academic experiences and opinions that you never thought you'd have before! Take it ALL in – you will miss it.
Profile interview conducted by Greg Gillespie