We are proud of our alumni's success stories. Our graduates find rewarding careers within prestigous, nationally recognized organizations and are engaged, visionary leaders in the field of health education and promotion.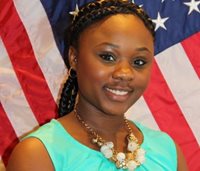 M.S. Health Education & Promotion
Class of 2015
Whitney Carrington
Read about Whitney's experience at MU and current position
What jobs can I do with a MS degree in Health Education and Promotion?
Here are a few examples of current positions held by Public Health Education and Promotion alumni:
Wellness Advocate: BeWell Program, UVA Health System. Charlottesville, VA.
Health Promotion Specialist at the Food and Drug Administration, Office of Women's Health. Silver Spring, Maryland.
Senior Consultant, Deployment Health Assessment Program at HQDA- Office of the Surgeon General (Army). Virginia.
Director, Health and Productivity, Buck Consultants at Xerox. Washington DC.
Client Co-Ordinator, Global Services at New York Presbyterian Hospital. New York and Riyadh, Saudi Arabia.
Program Co-Ordinator, Children's National Health System. Washington DC.
National Diabetes Prevention Program, Lifestyle Coach. Centers for Disease Control (CDC). Fairfax, Virginia.
Assistant Director of Wellness, Peer Health. East Carolina University. Greenville, NC.
Health Implementation Specialist. Performance Triad Co-Ordinator at U.S. Army, Office of the Surgeon General. DCOS, Public Health. Falls Church, Virginia.
Accreditation Manager, National Committee for Quality Assurance (NCQA). Washington DC.
Development Specialist at March of Dimes. Alexandria, Virginia.
Health Communication Specialist at MITRE Corporation. Washington DC.
HIV Program Co-ordinator at Community Health Care, Tacoma, WA.
Fetal Heart Program Co-Ordinator, Children's National Health System, Washington DC metro area.
Other student success stories.