DPT NEWS:
2019-2020 Marymount University Staff Council "Saints Making a Difference Awards" Announced May 19, 2020
Susan Welch-Paris, the DPT Administrative Clinical Education Coordinator, received the "Student Experience Commitment" award for her promotion of student success and significant contributions to and positive impact on the Marymount University community.
More than 40 nominations were received and Susan was one of eight award winners. Congratulations to Susan on such well-deserved recognition!
---
Celebration of the Class of 2020
This year has definitely been a new experience for all of us with the changes forced by the Covid-19 pandemic. One thing that has not been hampered by Covid-19 is the progression of our 3rd year students toward earning their Doctor of Physical Therapy degrees.
Unfortunately we were not able to hold our Hooding or Commencement celebrations live this year, but we hope that this virtual celebration of their success in some way allows us to showcase their hard work, dedication and success.
Please click on the video window below to view the celebration which was held on Sunday, May 17th .
---
Order of Events
Click here to follow the order of events for the DPT Graduation Celebration
---
News Archive
2018 NEXT Conference Student Perspective
Read our students' perspective on the 2018 NEXT Conference here!
MU DPT Faculty and Alumni Recognized at the National Level
Three members of the Marymount University family were honored with awards June 28, 2018 during the American Physical Therapy Association Conference (APTA) and Exposition in Orlando, Florida:
Dr. Diana G. Venskus, an associate professor of physical therapy, received the Humanitarian Award. The recognition honors individuals who exemplify the compassionate nature of the profession and actively demonstrate a commitment to humanity and selflessness in addressing health concerns. She directs the Physical Therapy Clinic at the Arlington Free Clinic, an academic-community service-learning partnership that integrates student-learning goals and community physical therapy needs in a pro bono service delivery model. She earned her bachelor's degree at George Mason University, her master's degree at George Washington University and her Ph.D. at Virginia Commonwealth University.
An alumna, Dr. Secili DeStefano, '01, '07, who earned her master's degree and doctorate from Marymount, received the Lucy Blair Service Award, which honors members whose contributions to APTA are of exceptional quality or value. She works at the Reston location of Bodies in Motion Physical Therapy where she administers premium care to a large, diverse population of outpatient orthopedic patients.
Dr. Rebecca H. Leonard, an adjunct faculty member, received the Henry O. and Florence P. Kendall Practice Award, which honors a physical therapy professional who embodies a commitment to developing physical therapy as a caring profession. The director and owner of Early Intervention Associates earned her bachelor's degree in physical therapy from the University of Connecticut, her master's degree from Marshall University and her doctor of physical therapy from Rocky Mountain University.
MU DPT Student Wins Triathlon
​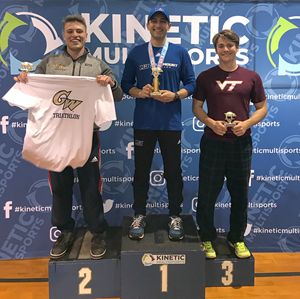 MU DPT Class of 2020 student and member of the MU Triathlon team, Bryan Pashigian, placed first in the collegiate male division and 10th place overall at the USAT Mid-Atlantic Collegiate Regional Sprint (Smithfield Sprint Triathlon, April 7th, 2018, Smithfield, VA).