Sophia Hines – Admissions Counselor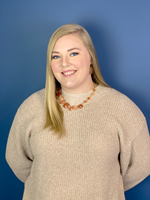 I went to a small liberal-arts college so I understand how impactful an intimate one-on-one experience can be. I was always quiet and feared falling through the cracks. When I found a college with supportive staff and faculty as well as a campus that wanted to hear my voice, I was able to thrive and pursue personal and professional development. I believe students can find that at Marymount.
My experience allowed me to develop a passion for higher education. As a recent graduate, I can use my experience to help guide you in the direction you want to go. Additionally, if you enjoy sappy romantic comedies, crime podcasts, or you're a foodie, I'm your girl! Don't hesitate to give me a call or shoot me an email!
About Sophia
Education:
B.A. Sociology at Roanoke College '19
Favorite Food:
Steak & Frites
Hometown:
Cincinnati, OH
Favorite Location on Campus:
Ballston Starbucks
Best College Search Process Tip
Ask questions! College is a big deal. You should know everything you can in order to make the most informed decision. There are so many people that are willing to help you through this crazy (and usually stressful process); take advantage of that!
Contact Sophia
Phone: 703-908-7809
Email: shines@marymount.edu
Twitter: @MUAdmissions